When choosing a rug, we should focus on size, color, shape and age. These rugs have different names, such as area rugs, rugs, oriental rugs, Persian rugs, etc. However, each rug consists of the following parts.
● Field - the central part of the rugs
● Medallion - the middle part of the rugs (optional)
● Corners - the place where the midfield ends.
● Borders - the outermost part of the rugs
We briefly introduce the parts of a rug since you need to think about the color of the different parts of the rug when selecting it. Later we will discuss the question - should the rugs be lighter or darker than sofa or couch?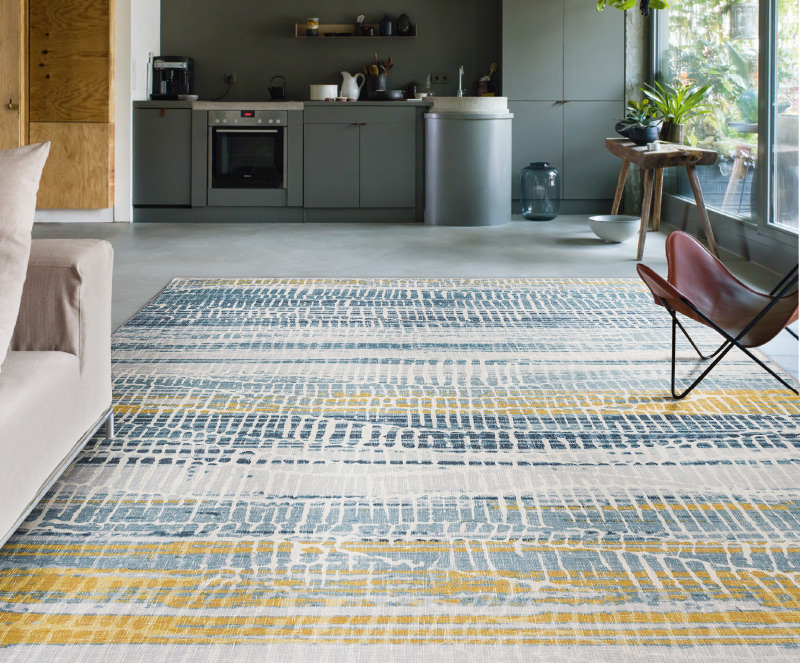 Common Tips When Choosing Rug Color
Color is an important part of choosing a rug for any place for the different considerations mentioned above. If you want to know how to choose a rug color, usually, you must consider the following aspects when buying a rug to create the right look.
◆ Decide on an ambiance
Depending on the preferred ambiance you need, choose a style, whether it is modern, traditional, dark or otherwise. It's your taste. The borders will also match. I can suggest that you search on Pinterest by the name of the style you want + the rug. Double check the results and enhance your desires.
◆ Texture will also affect the color
Pay attention to quality and materials.
◆ Look at the colors and patterns in your space.
Well, if you need to match your new rug to your space perfectly, be keen to study the colors, light and patterns in your space. When choosing a rug for your living room, a place many people and your guests visit for the first time and are impressed, the process is complicated. If you are looking for whether the rug should be lighter or darker than the sofa? It might be better if you continue reading this article.
◆ Consider your lifestyle
If the entrance way, rooms, kitchen and anywhere in your home is too busy, you will find it difficult to clean. In addition, you also definitely need a durable material.
Should the rugs be lighter or darker than sofa?
Dark rug or light rug, it depends on your personal and design preferences, the rug under the sofa or couch can be brighter or darker. Lighter rugs usually choose darker sofas and darker rugs choose lighter sofas. If you have a light-colored sofa, a dark rug can provide a stunning contrast and vice versa. Therefore, choose a sofa that fits the rug or a rug that matches your sofa. You can separate the two with different rugs.
Whether you want your room to be more open and airy or not, a light colored rug will have that effect. On darker rugs, you will feel smaller and more comfortable. If you do not plan to paint the walls, consider the color of the existing walls when choosing a rugs.
Simply put, it doesn't matter whether the rugs is light or dark in color. However, according to the experience of architects and interior designers and light theory, there are few rugss under the sofa rule.
◆ Contrast
If you do not have a monochromatic house, look for at least 2 different colors, as rugs sofas can be brighter or darker depending on your personal and design preferences. Dark sofas are usually used for soft rugs and light colored sofas for darker rugs. If you have a light colored rug, a dark colored sofa can provide a sharp contrast and vice versa.
For example, consider taking a black and white photo of the rugs and the bed. In grayscale, you will need to significantly change the color. Also, if you choose a multi-color rug, match the secondary or tertiary colors to your bed or other large furniture or accessories. This allows for small changes to be made while the items are still flowing together.
What color rug goes with a gray sofa?
What color rug goes with a gray sofa? Gray is a versatile color that works well as a base layer for a variety of area rugs. If you want to be bolder and more daring, neutrals such as white, creams and light browns are similar to warm colors such as mustard or bright red or blue.
When paired with a white sofa or light gray chair, a beige rug can be balanced and vibrant - proving that there's nothing dull about neutrals. Neutral and unpretentious, a beautiful gray rug can exude cool undertones, creating a lighter atmosphere and a balanced overall color scheme. So, when choosing a colored rug for your sofa, consider the following points.
Monochrome rugs
Monochromatic color schemes are derived from a single base color and extended using its shade. The moochrome rugs mean solid rugs for simple matchfor your deco.
Does the rug have to match the sofa?
Not at all, depending on the rugs under the sofa rules. However, to tie the look of the room together, you will need to choose a rug that complements two or three of the room's primary colors. Make sure the solid color rug complements the color of the sofa and matches the main color of the room, such as artwork or planters.
However, in a spacious open space, both sofas should sit under the front legs - or if you have a large rug, both sofas can sit perfectly on the rug. If you also have chairs in space, the front legs of the chairs should touch or "sprout" on the rug.
Hometeriors focus on home rugs manufacture and supply for years. We have rich experience in producing high quality light color and dark color printed rugs and braided rugs and fur rugs to meet different requirements. We welcome all the distributors, retailers and small business of home rug products to build partnership with us for stable and reliable supply at competitive wholesale price. Feel free to contact us at any time for free inquiries.